I am sooo glad it's Friday! It has been a long week with the daylight savings time ending and all. It's dark when I get up now so that throws me off..lol
I finally finished my first merit badge for the MJF sisterhood. It's a button badge for the Buttoned Up section. I like it, it turned out pretty good :)
I've been busy cleaning out a pop up camper that was given to us this week. I don't think the people who previously owned cleaned it that often...Is that mean to say?? I don't want to come off as mean, but that thing was really , really dirty! Oh, well, the price was right...FREE. I can't complain, it's just alot of work. I'll live...lol
On a lighter note, I'm looking forward to another Crafty Bay Chapter meeting next month!! I believe that we're going to check out some antique shops! I can't wait!! Antiquing, talking, eating...what could be better??
Well, this post is gonna be short - I have to get the little one to the bus stop. Here's apic of my badge - Hope you like it!!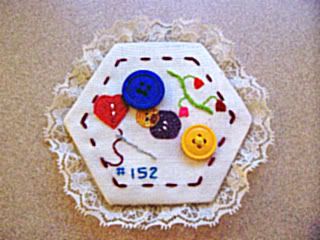 Anywho - tah tah for now (classy eh? lol) Take care and Happy Crafting!